*This post may contain affiliate links, which means I may receive a small commission, at no cost to you, if you make a purchase through a link!*
Do you ever just need a minute? Imagine you're me for a second. Your husband is out of town, you have a full time job, dinner isn't ready, and you have two kids who won't stop pulling at your shirt… or hitting one another. You don't want to throw the tablet at them… again this week. It's HARD AF, y'all. There, I said it. Parenting is freaking hard. Anyway, on to the solution. I LOVED this Montessori Christmas Activity for Toddlers that Busy Toddler posted a couple years ago and it totally saved me the day she posted it back when Bella Kate was a toddler, so I pulled it out again this year for Nora Dove! Total mom win. I love having Montessori activities in my pocket, especially ones that take little time to throw together.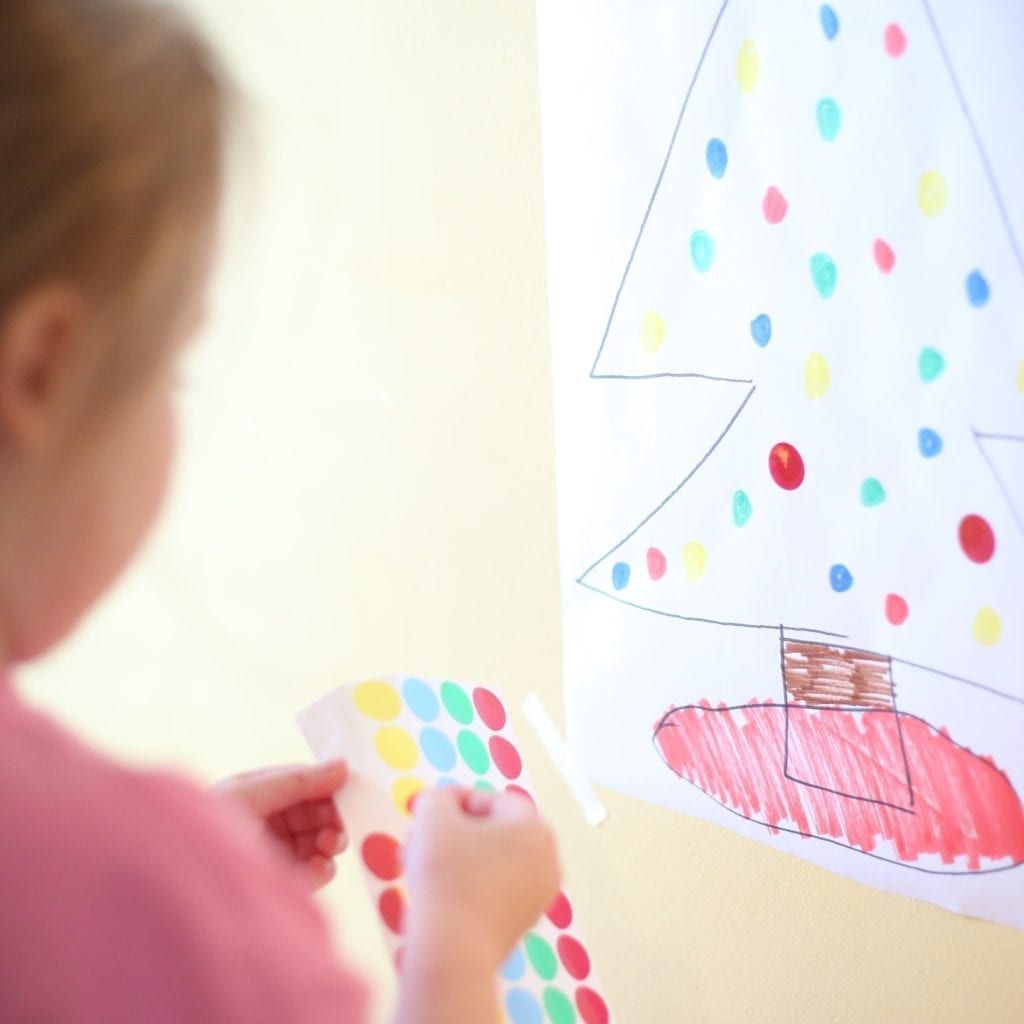 Roll of Paper (we always have 1-2 rolls of craft paper on hand. It's cheap and it comes in handy for SO MANY THINGS – Brown Here, White Here)
Bingo Dotters (or if you're like me just user markers because that's all you have on hand. Seriously, we're parents, we just make it work, right? – Bingo Dotters Here, Markers Here)
Colored Stickers (we had some price stickers in our junk drawer leftover from a yard sale we did like 10 years ago. Apparently, they are also good to have on hand for crafty things. – Stickers Here)
Instructions (This activity prep is so easy)
Cut length of paper you desire (probably depends on how tall your kid is)
Draw a tree on said paper with black marker
Put colored circles (with bingo dotters or markers) all over the tree like you would arrange ornaments. I think I did 12 per color.
Tape the tree paper to the wall at kid height.
Give your kid the colored stickers and tell them to place them on the ornaments with the matching colors!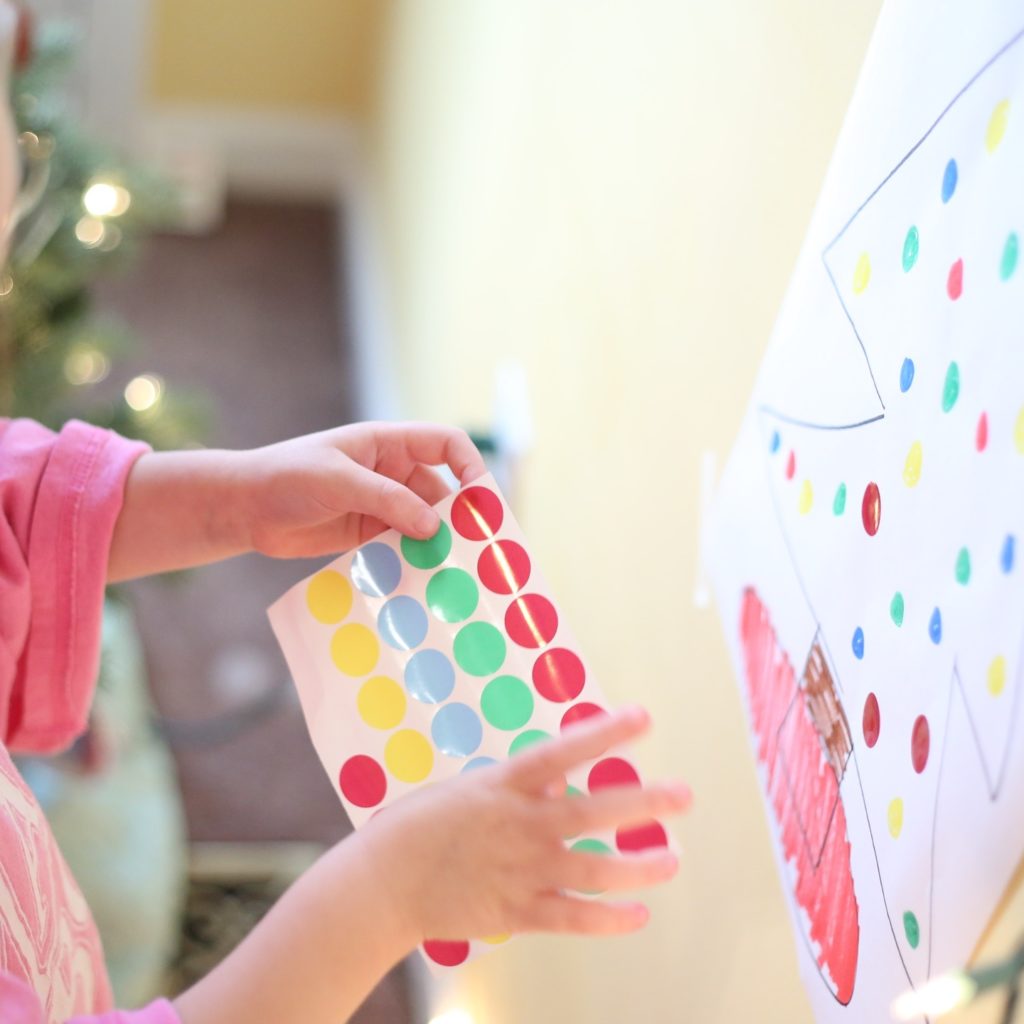 This was SO incredibly easy and she loved this Montessori Christmas activity so much that I had to do two trees. Then I also ended up drawing a string of lights (which is nice because you can make it VERY long lol) and had her match the light colors with the stickers. In true Aleah-is-the-best-blogger-ever fashion I did not take a picture of the lights paper.
My kids both LOVE matching, coloring, and categorizing things. Not only was this a great learning activity, but it was also fun for them. I'd rather give them a Montessori activity that they like that give them their tablet (though I do not deny giving them their tablet in desperate situations. This is about survival).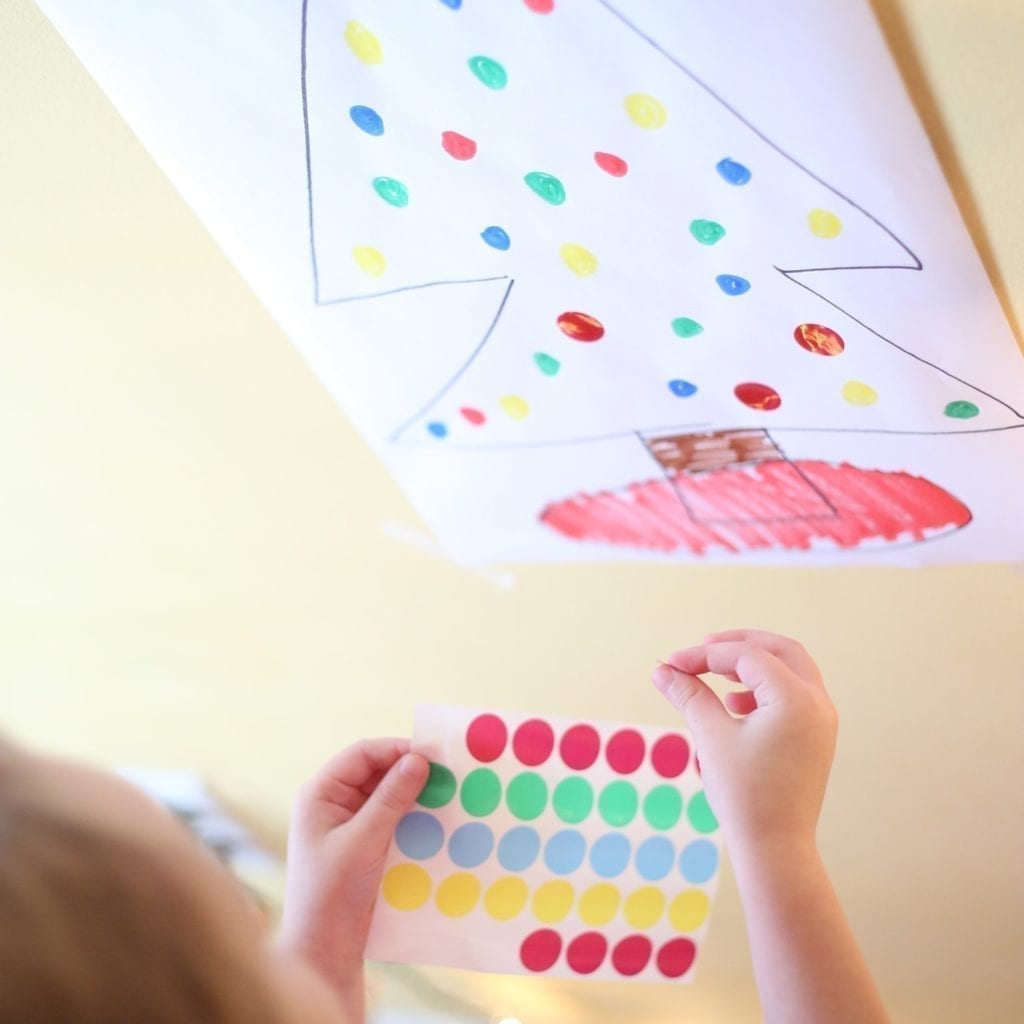 I mean look at those tiny chubby fingers. Can you EVEN?! I miss her being this small. So cute I could die.
Please let me know if you try out this Montessori Christmas Activity for Toddlers with your littles! Leave me a comment and share a picture. I love hearing from you guys.
xoxo,
Aleah