*This post may contain affiliate links, which means I may receive a small commission, at no cost to you, if you make a purchase through a link!*
Are you a mom –
with not a ton of free time (does a mom WITH free time really exist, though)?
who also works a full time job?
who runs a business?
who lives in a small or cramped space?
who cannot get to the gym (or doesn't have childcare to go)?
… etc, etc am I right?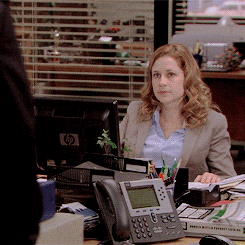 Shew I am. I work from home at a computer. I have never felt the need to move my body more than I have in the last few years. But how?! Getting to the gym is a struggle? When do I do that? 5 am? After already not sleeping much because… 2 kids? No thanks. Yeah I hear you out there that love to work out screaming at my through your screen, "If you cared enough you'd MAKE TIME!" And you're right… sort of; I do care, but not enough to sacrifice everything else for it. I can't skip work to work out, I don't want to skip sleep to work out, and I almost never have childcare to work out. Heck, I barely have childcare to go to the doctor!
That's why when I got the chance to try The DB Method I JUMPED at the opportunity. Maybe a little too enthusiastically if I'm honest. So let's get into it.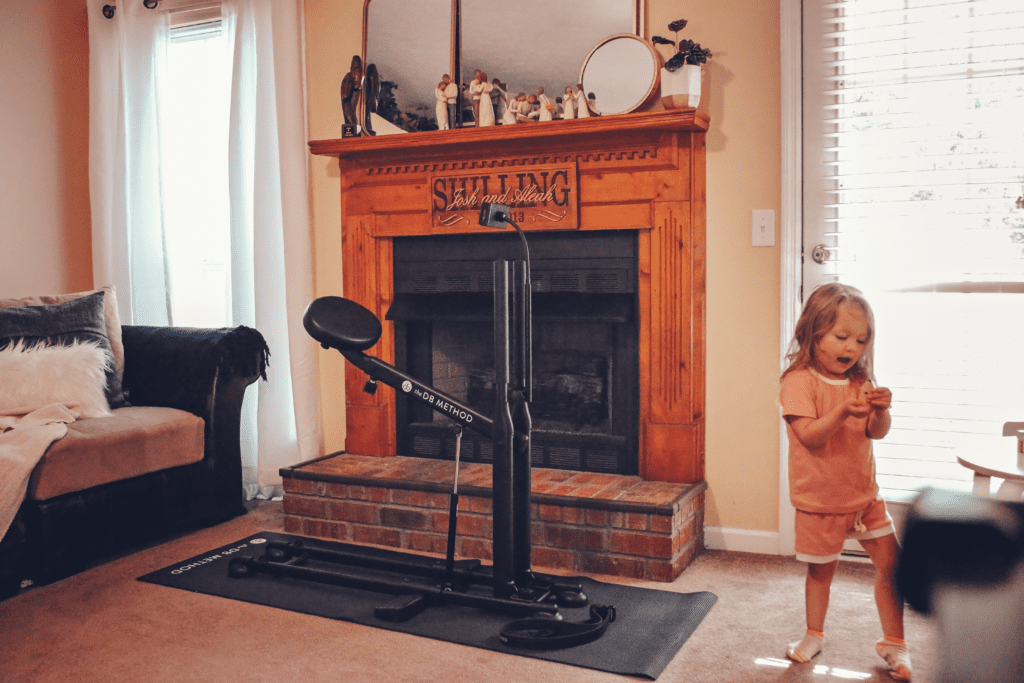 What is The DB Method?
The DB Method is at it's core a squat machine, HOWEVER you can do so much more with it. You can get a full body workout from this machine. Now, I do want stronger arms, but total transparency, mama needs to work her booty. One important thing about The DB Method is the workouts (available on their APP!) are low impact. This is SO important for me. Having been through a neck and back injury recently, I need something low impact and will likely continue to for some time. I feel like a lot of men and women by my age have been through something that means their body really does need low impact movements. So what drew me to The DB Method?
The DB Method Folds Flat To Store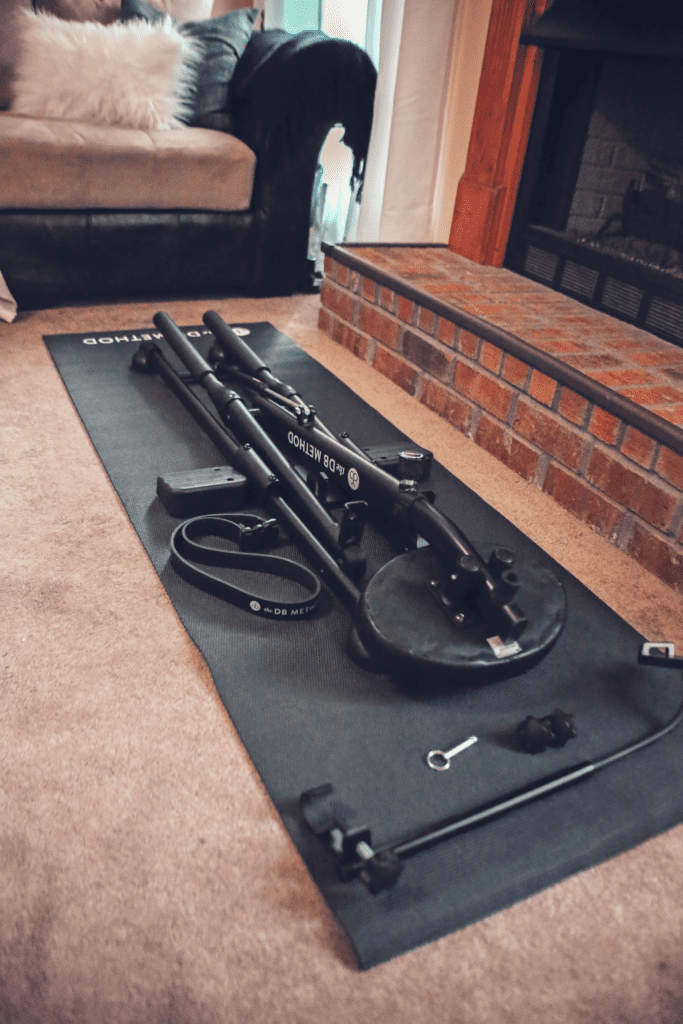 This feature was key for me. There is literally no more room for things in this house. I had no space open for this to just sit setup all the time. The fact that I can easily fold it flat and roll it into a small space in the living room closet was such a huge feature for me. This machine is perfect for small spaces because it doesn't take up a ton of space to begin with and because it's so easy to fold up and put away.
The Workouts Are Low Impact and Take 10 Minutes A Day
I mentioned this before, but I need low impact. Having a head, neck, and upper back injuries but still wanting to work out had been somewhat of a challenge. Now, don't get me wrong, working out has never been high on my priority list, but I NEED to do it. Not just for the way I want my body to look, but even more for the way I feel. Exercise is so important for your immune system, too. I want to be healthy and while diet is important, so is movement. I always have children under me and work that needs doing (I work in IT as a software engineer), so the fact that I can get a very efficient workout in on this machine in 10 minutes is perfect for me. And let me tell you, I went into it thinking, "10 minutes of swats? Pbft okay I got this," Um … no, no I did not. It's a very efficient workout, and I was dying by the end of it. Literally dying. So much sweat I legitimately looked like a glazed donut … and now I want a donut which is all the more reason for me to love having The DB Method around to help me burn calories.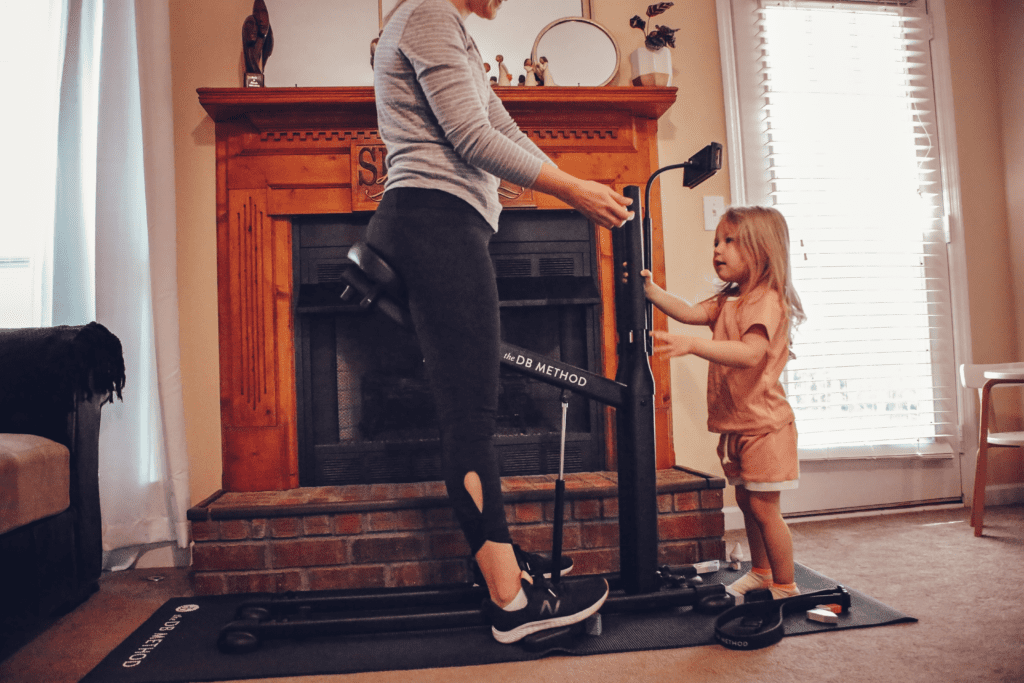 I Can Workout At Home With My Kids
The DB Method allows me to have an at-home workout with my kids basically right under me. With other home workouts, I was always running into them, tripping, and trying to make sure I didn't kick or punch them. I love that my kids want to basically be attached to my hip and I know this is just a season, but it does make it difficult to get in a workout with them around.
There is a cell phone mount accessory you can purchase that is supposed to be used to watch a workout and follow along hands free. Me being me though, I turned it around so that Nora Dove could feel like she was a part of my workout while she watched her favorite show on my phone. Every 30 seconds or so she'd yell something like "You're doing great, mom!" and "That's right! Up then down." It was like having a personal trainer … who also has no filter.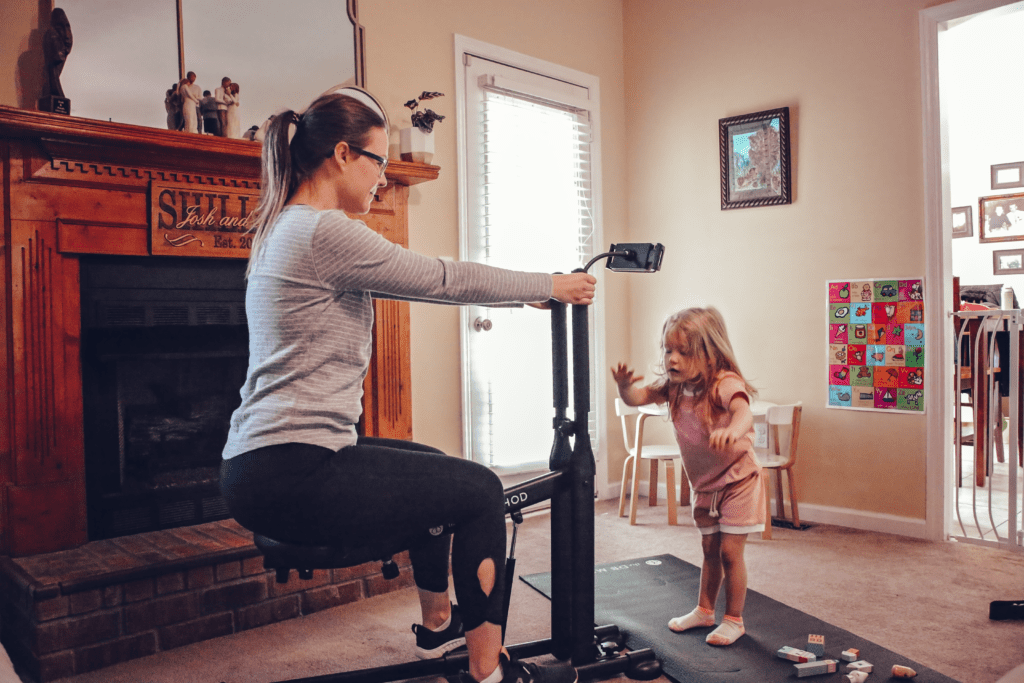 There Are Accessories To Amp Up Your Workout
I already mentioned the cell phone mount called The DreamMount which I admittedly do not use as intended, but hey, you gotta make it work for you! I also received:
The DreamMat – this protects my floors and adds stability, and it can also be used as a yoga/warmup mat! Or in our case, as a play mat for my youngest.
The DreamBand – this is a resistance band to amp up my workout. Adding resistance can really help with strength training! Clipping it around my thighs can also help me keep the right form during my squats making sure I get maximum effect from my effort.
The DreamBelt – another way to amp up my workout. Adding distributed weight around the midsection adds so much intensity to my workout. PRO WORKING FROM HOME TIP: Wear your DreamBelt while working at your standing desk and burn calories while you work!
And when you're done, high five your work out partner… or your kid… OR YOURSELF!
I hope you found this home workout information helpful, and if there's anything I can help with or a question you have about The DB Method that I did not answer here, please do not hesitate to leave a comment below or shoot me a message! If you did find this useful I would love it if you'd share it with your friends and family or pin it! If you try The DB Method out for yourself, I'd LOVE to hear YOUR thoughts on it!!
xoxo,
Aleah