*This post may contain affiliate links, which means I may receive a small commission, at no cost to you, if you make a purchase through a link!*
Jump to Recipe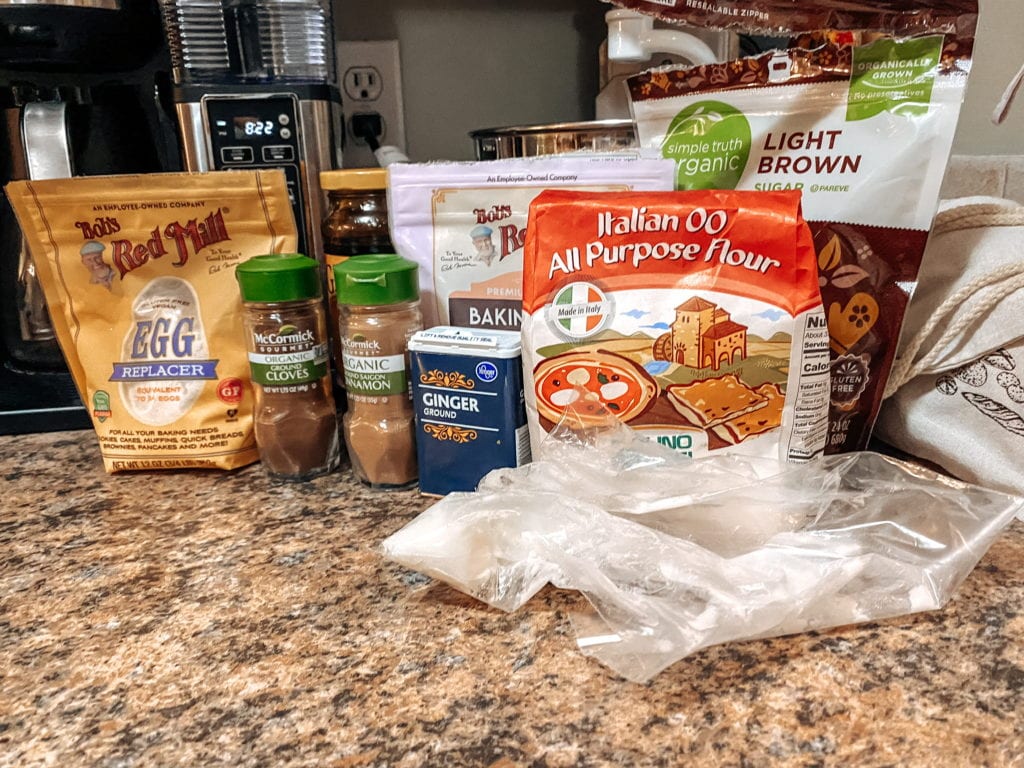 I've known this event was coming since. The first graders at Bella Kate's school have a huge gingerbread cookie baking event every December. Guess what's in a normal gingerbread recipe…. yep… eggs. Well, I wasn't about to risk eggs in the classroom with BK and neither was her teacher. SO I've been trying to get good, easy gingerbread cookies to work that are vegan. There are a lot of egg substitutes to help you make your vegan baking dreams come true. Apple sauce, pumpkin puree, flax eggs to name a few and I have tried them all with varied success and depending on the application (cake, bread, cookie, etc.). Thankfully, I have found that Bob's Red Mill makes an egg replacer that is simply amazing. I get it at Target! So there are no tricks for this recipe. Just egg replacer and I couldn't be happier because they turned out PERFECTLY chewy. I tried them two nights before the big gingerbread cookie event and then went into the school to help everyone adapt their recipes and had my own group of kids. It was SO MUCH FUN and we were able to still have the normal gingerbread activity that they were all looking forward to AND keep it safe. Christmas gingerbread sugar rush win win.
Jump to Recipe
Testing Out Our Recipe!
So a few things, I recommend mixing this dough by hand instead of using a mixer. Use a fork to mix together the two different sugars and then cream the sugars by hand with a fork cutting the Crisco into the sugar. Then I would switch to a rubber spatula and eventually your hands to mix in the flour.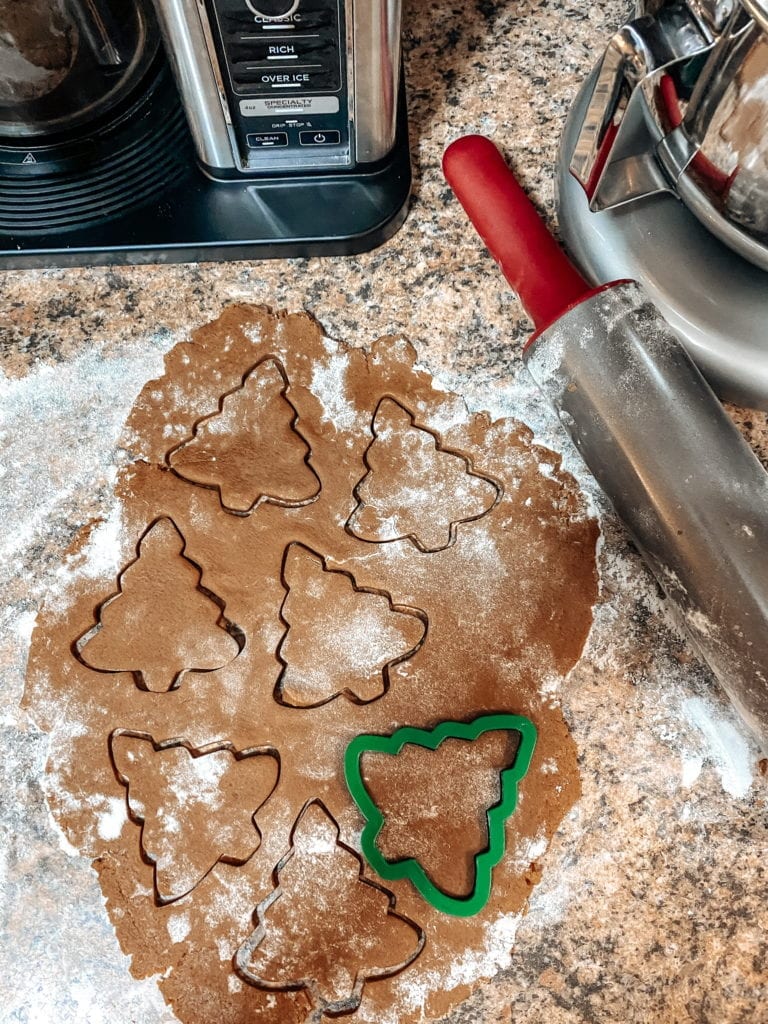 Once everything is mixed together, flour your surface well. Don't be afraid to do this. Baking is messy after all. I switched to a thin metal spatula at this point to get the cut gingerbread cookies off of the counter and onto the sheets. I ALWAYS bake with parchment paper. It's just the best especially for cookies. I found that the first set of gingerbread cookies I cut out which were wetter because I hadn't added more flour to my surface and rerolled the leftover dough puffed up more (naturally because of more steam) and cracked some in the center. They turned out perfectly fine after they cooled but the ones that were a little drier cracked less so something to consider. When cutting your vegan gingerbread cookies with the cookies cutter wiggle it a little before picking it up, they'll come out great every time!
Don't forget to re-roll the leftovers to get every last cookie possible! We ended up with 16!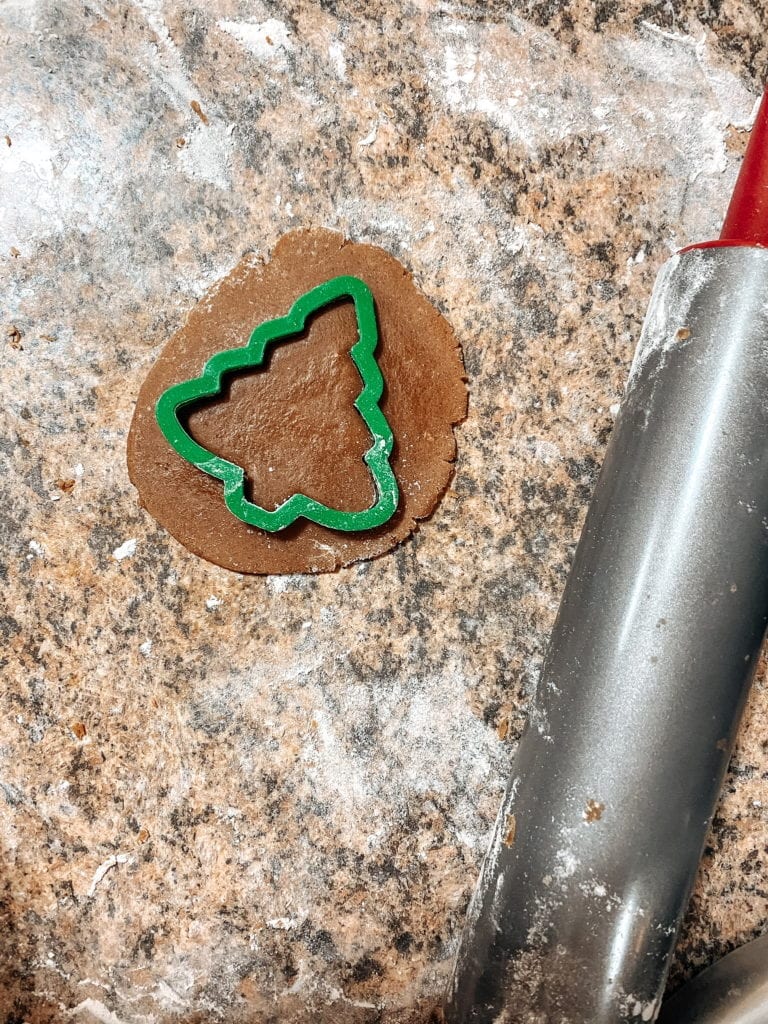 Vegan Gingerbread Cookie Baking At School
I had so much fun at school with my little group of girls. I loved going from table to table helping the other moms get their gingerbread cookie dough just right, too. This was such a fun event and a great way to reinforce the meaning of fractions when the kids are getting and measuring the ingredients! They're having fun and learning.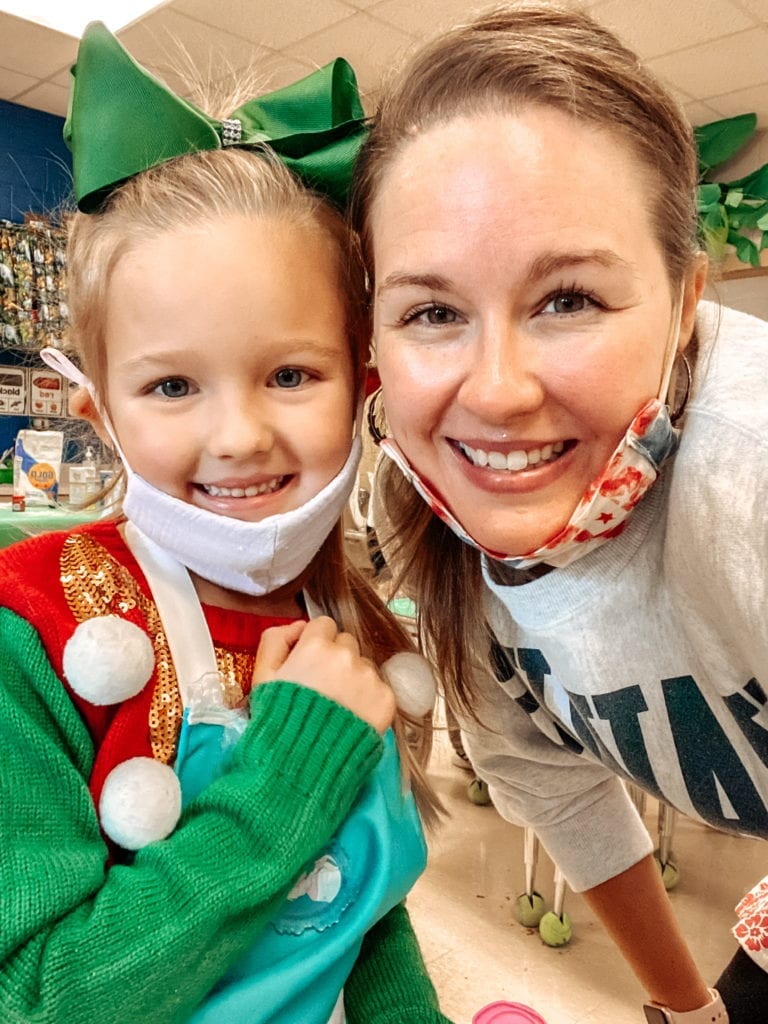 The Vegan Gingerbread Cookie Recipe … Finally, I Know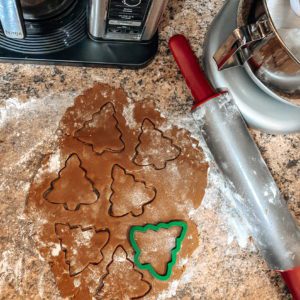 Equipment
Medium mixing bowl

Small bowl

Set of measuring cups

Set of measuring spoons

Parchment paper

Rolling Pin

Cookie cutters

Rubber spatula

Metal spatula
Ingredients
1/4 cup light brown sugar
1/4 cup white sugar
1/4 cup shortening
1 tbsp Bob's Red Mill Egg Replacer
2 tbsp water
1/4 tsp baking soda
1/4 cup molasses
1/2 tsp ground ginger
1/4 tsp ground cinnamon
1/4 tsp ground cloves
Pinch allspice
1 cup all purpose flour
1 cup separate all purpose flour (as needed)
Instructions
Preheat oven to 350 degrees F.

Cut parchment paper to the size of your cookie sheet(s) and place on the sheets.

Mix 1/4 cup brown and 1/4 cup white sugar in mixing bowl.

Mix 1/4 cup shortening into the sugar. Cut in using a fork to make it easier.

In small bowl, Mix 1 tbps Bob's Red Mill Egg Replacer with 2 tbsp water. Mix well and let site about 1-2 minutes until it thickens some and becomes gooey like an egg.

Add "egg" to mixing bowl and combine well with sugars and shortening until no lumps are left

In 1/4 measuring cup combine 1/4 tsp baking soda and 1/4 cup molasses. Add mixture to mixing bowl and combine.

Add spices: 1/2 tsp ginger, 1/4 tsp cinnamon, 1/4 tsp cloves, pinch allspice. Mix.

Add 1 cup flour and use spatula to combine.

Measure out 1 more cup of flour. Add small amounts (probably 1-2 tbsp at a time) of flour until your dough forms a nice dough ball that isn't too sticky to roll out. If it gets too dry, add water 1 tbsp at a time and mix in until it forms a ball again. I ended up adding very little of the second cup of flour.

Once you have the right consistency, flour your surface (I use my counter), and roll the dough out with your rolling pin. The thickness will be to your taste but I'd guess ours was 1/4 inch thick.

Using your favorite cookie cutter(s) cut out the cookies. TIP: Once you place the cutter on the dough and push down, before you lift it up wiggle it a little. This will separate the sides and make it much easier to get up with the metal spatula.

Using your metal spatula, pick up cut cookies and place on parchment lined sheets about an inch apart to allow for spread. They don't spread too much.

Reform the leftovers into a ball and re-roll. Cut more cookies! Repeat this until you have no more dough left.

Bake for 10-12 minutes (10 if you want them chewier, 12 if you want them crispier)

Remove from oven and allow to cool completely.
Notes
Now, when we did this at school with the rest of the kids, they all decorated their cookies BEFORE we baked them.  And all of them turned out great, even the ones that put so many toppings on the cookies you could barely see them anymore LOL A lot of people decorate after they're cooled. When we decorated in the classroom we used gumdrops, many different kinds of sprinkles, mini chocolate chips (Enjoy Life are vegan), whatever will fit! 
These lasted 2 days in our house. 16 cookies, just gone. So it was great that BK ended up making more at school hahahaha. They are SO good and you can really let your kids get into decorating the trees or gingerbread people and they still cook up great.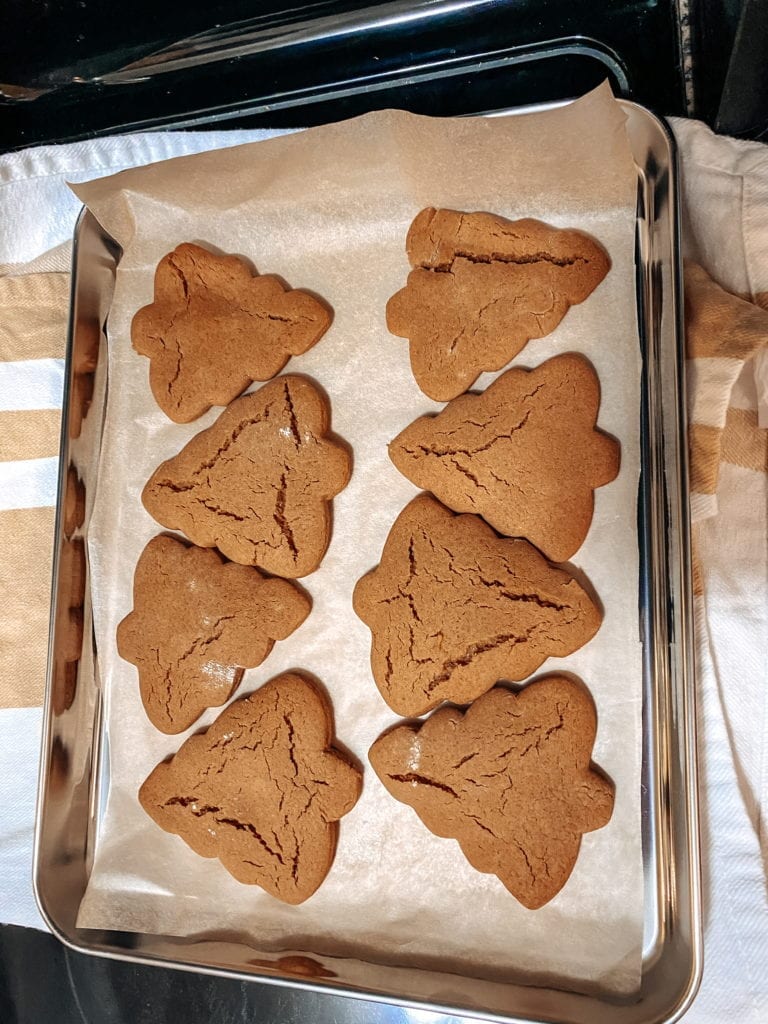 Actual image of my gingerbread cookie dance after the first bite. So good you wouldn't even realize they were vegan.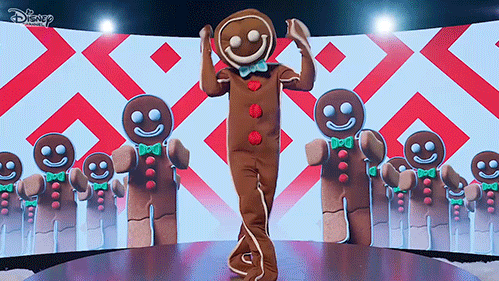 As always if you try these awesome perfectly chewy easy vegan gingerbread cookies please leave me a comment or shoot me a message here. I love it when you guys try recipes I adapt and share. I'm here to answer questions too!!
xoxo,
Aleah
Pin This Vegan Gingerbread Cookie Recipe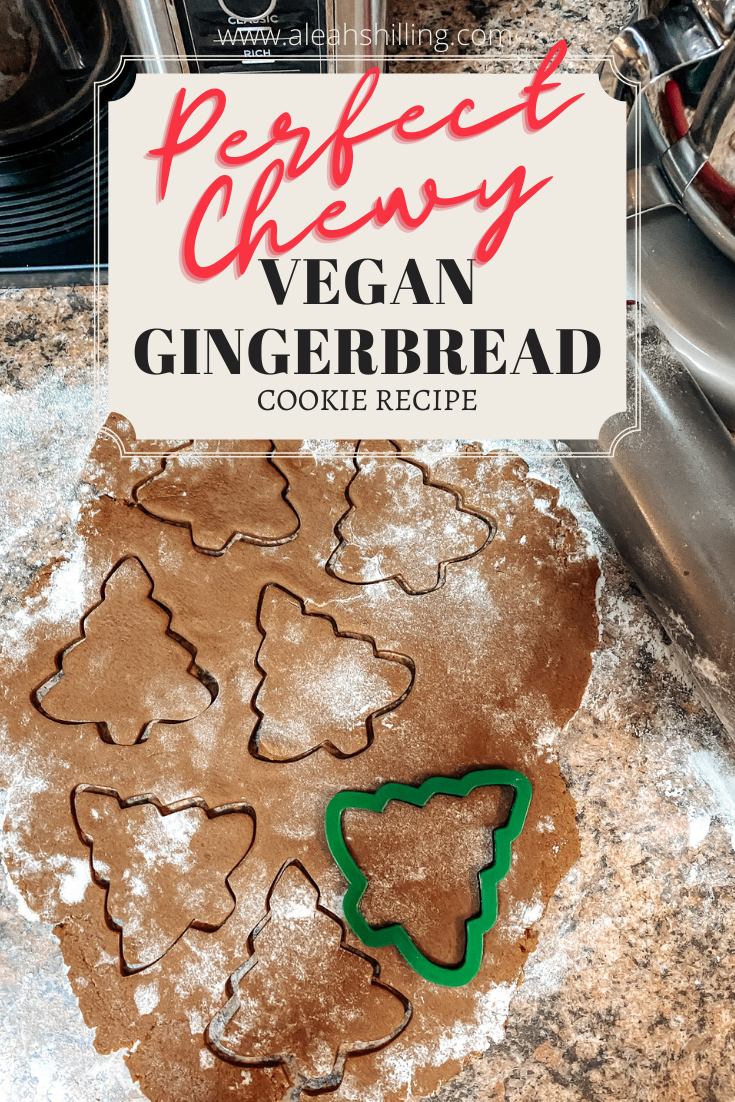 Shop This Post