*This post may contain affiliate links, which means I may receive a small commission, at no cost to you, if you make a purchase through a link!*
Jump to Recipe
EVERYONE has been messaging asking for the recipe for these easy pickles since I shared them on Instagram. Naturally, I decided to just write it up quickly for the blog. Homemade quick refrigerator pickles are so easy you will wonder why you ever paid for pickles in a store. I didn't really measure everything, but I'll try to give you a rough estimate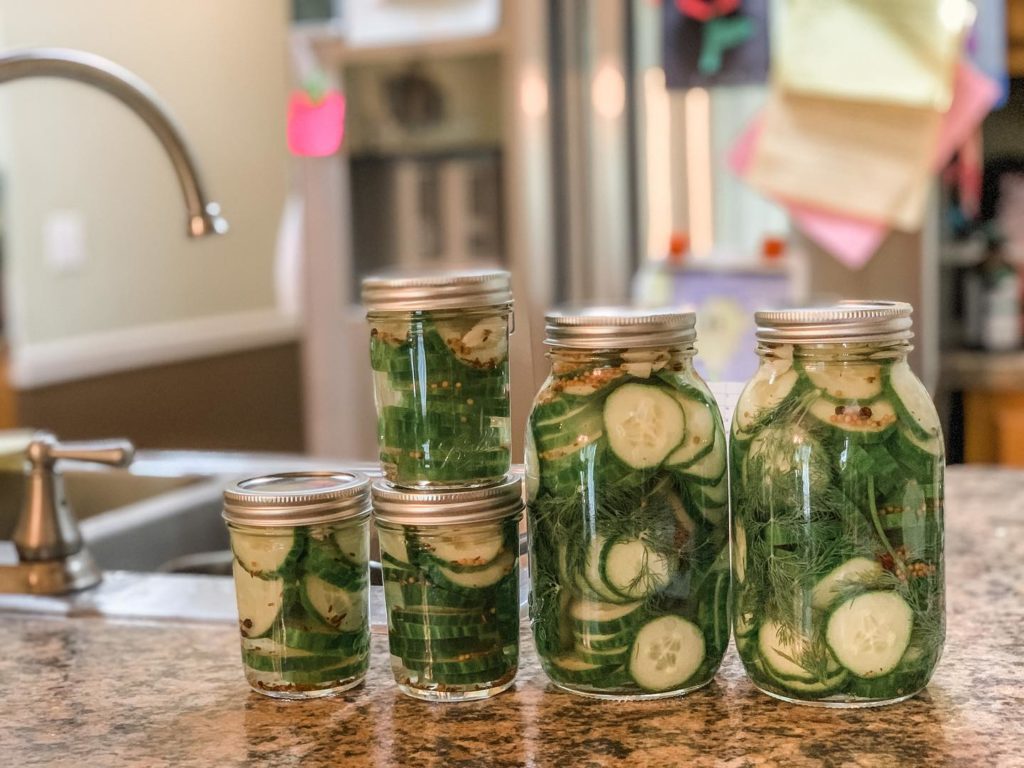 I guess you're supposed to use pickling cucumbers but sometimes they're hard to find or aren't organic. So I just try to use seedless ones. These turned out amazingly and I didn't use pickling cukes. Obviously you'll want to wash them first and make sure your jars and lids are washed in hot soapy water and well.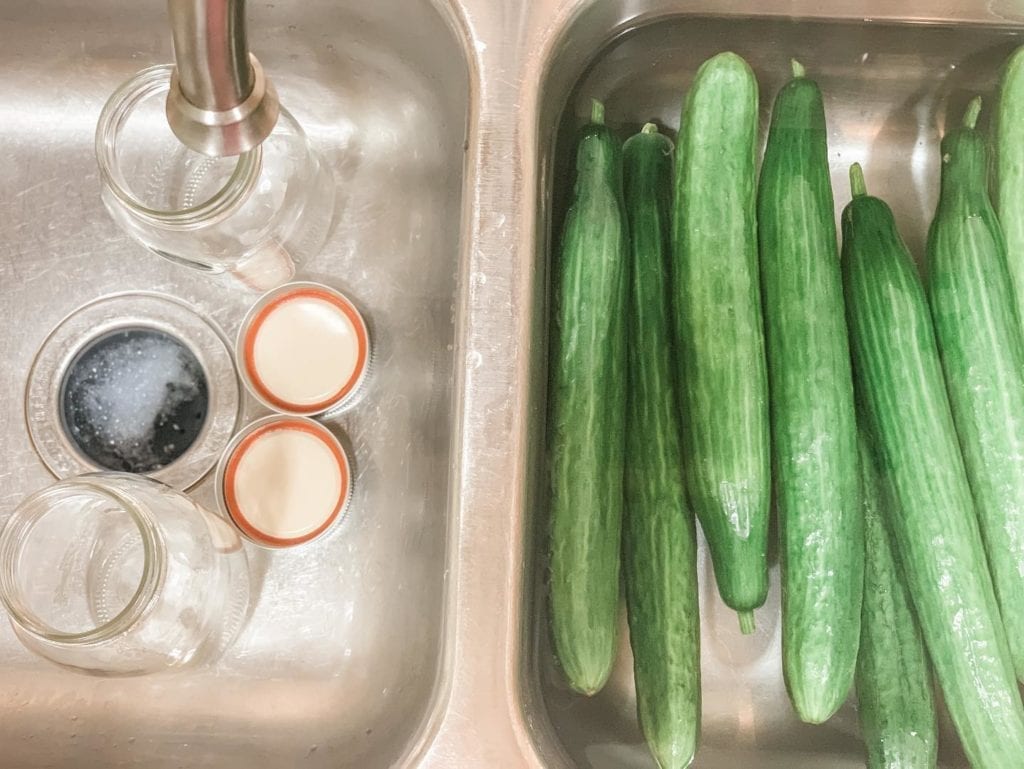 A note on the garlic:
I used too much! Hahaha Now, I loved them, but the jars that had garlic in them were "too spicy" for Bella Kate. Nora Dove on the other hand couldn't get enough of the spicy ones. Food is her love language.
Also, my favorite salt EVER to use for anything, but also for this lol is Redmond's Real Salt.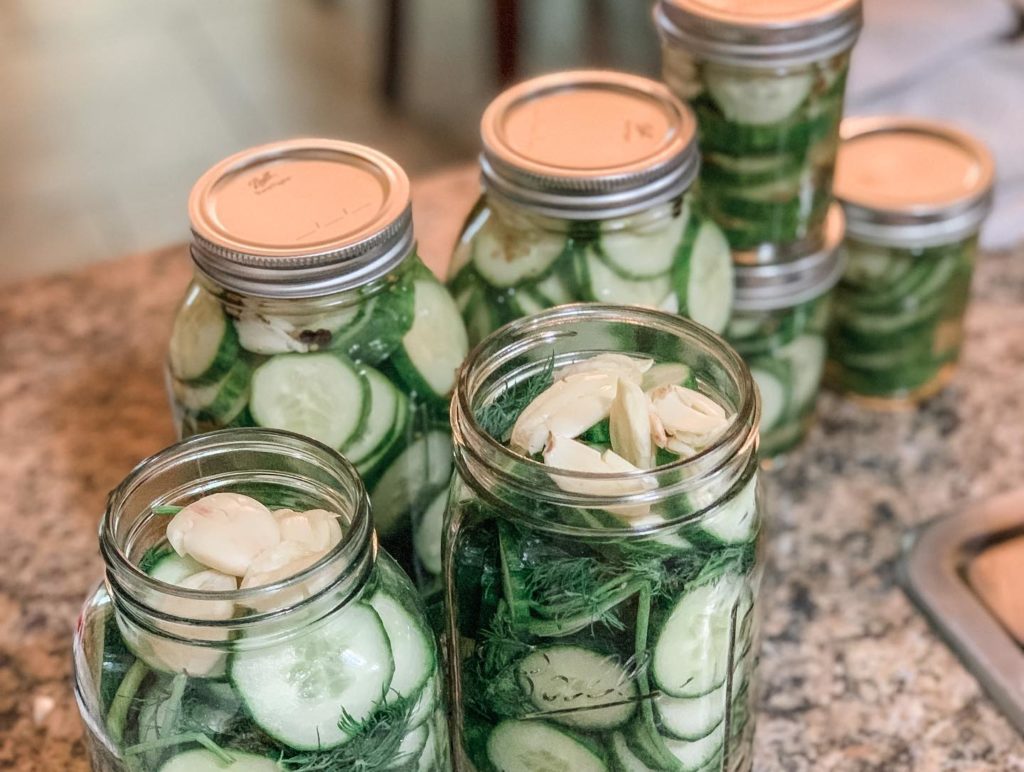 These were SO good and I couldn't stop eating them with ALL of the things, but my favorite was slathering my homemade hummus (recipe coming soon!) on my homemade sourdough (so extra, I know) and topping it with these homemade pickles. SO. SO. Satisfying. So let's get to the recipe, shall we?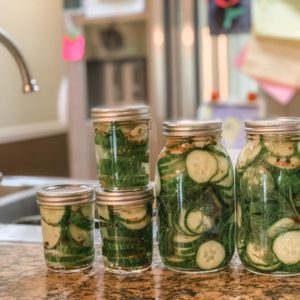 Easy Refrigerator Pickles
This quick easy pickle recipe will have you eating homemade crispy pickles in a matter of hours and trust me once you start you will have a hard time stopping!
Equipment
Canning jars

Cutting board

Knife

Cutting board

Refridgerator

Stove
Ingredients
2 cups white vinegar could also use ACV
4 cups water
5 seedless English cucumbers or 10 smaller pickling cucumbers
2 tbsp REDMOND Real Sea Salt or your favorite kosher salt
1 tsp sugar
2 bunches fresh dill I also put dill seeds in my brine for two of the smaller jars to see if it made a difference
1 tbsp mustard seed
10-15 whole peppercorns estimate
1 head garlic skins removed, cloves smashed (less if it's a strong garlic)
Dash celery seed
Instructions
Make the brine. Put water, vinegar, salt, sugar, mustard seed, peppercorns, celery seed in a pot over medium heat. Bring to a simmer until salt and sugar are dissolved. Remove from heat and allow to cool to a warm(ish) temp.

Slice cucumbers in 1/4 inch slices and put cucumbers and fresh dill in jars. Do not pack TOO tight so that the brine can get to each cuke.

Use a broad knife to smash and peel each clove in the head of garlic. Spread between jars on top.

Using a measuring cup "spoon" brine into each jar trying to evenly distribute mustard seeds and peppercorns. Jiggle the jars to remove air pockets and put lids on.

Place jars into fridge for at least 24 hours before trying. These should keep in the fridge for 4-6 weeks.
Notes
Amounts of garlic and dill will depend on personal taste. Try it and adjust. Please let me know if you try this!! These will keep in the fridge for awhile, just keep in mind that the longer they're in there the less crisp they will be.  They'll still taste delicious!
Actual image of how excited I am when these have sat long enough in the fridge to eat. LOL
Be sure to leave a comment or shoot me an email if you have questions or try these super easy homemade quick refrigerator pickles! I'd love to hear about it.
xoxo,
Aleah